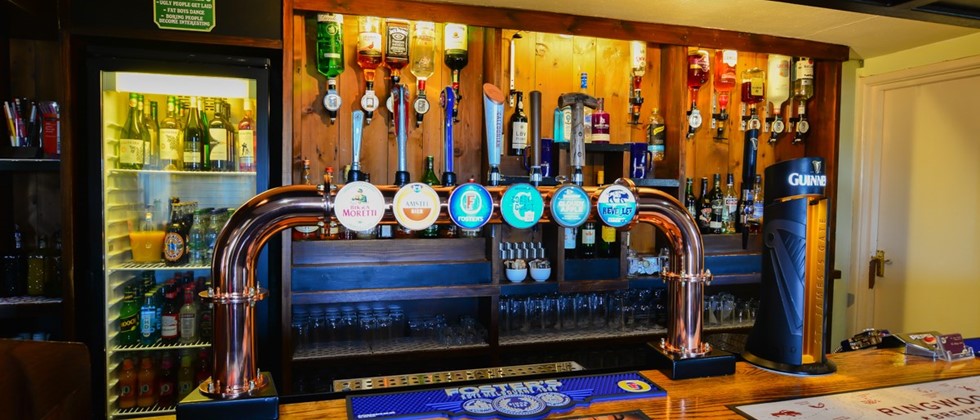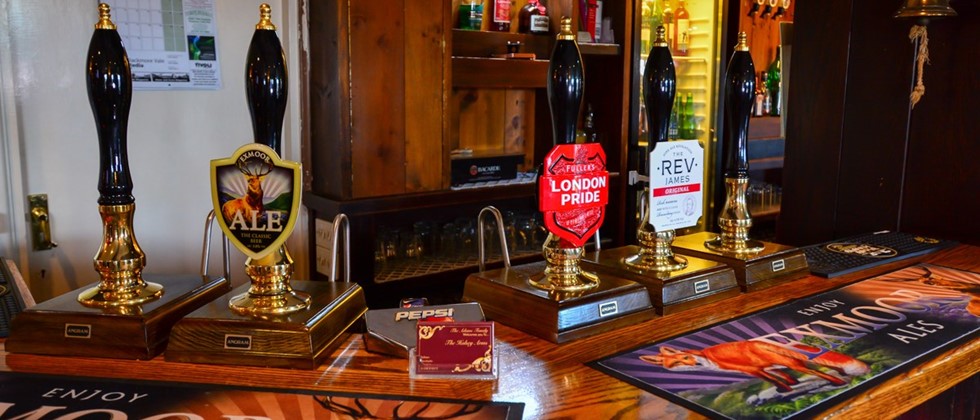 Drinks
Beer
Amstel Lager
, Amstel
(4.1%)
Beautiful golden color with a mildly bitter taste and cheerful character.
Beer
Birra Moretti
, Heineken
(4.6%)
Birra Moretti is a quality beer made in the traditional way. It is the result of a production process that has remained almost unchanged since 1859.
Beer
Butcombe Gold
, Butcombe Brewing Co.
(4.4%)
Gold is a beer to treasure. Made with a blend of Caramalt and Maris Otter malt and brewed using lashings of English Fuggles hops for fresh vitality and distinctly herbal, earthy notes. If you're searching for a beer full of character 'X' marks the spot.
Beer
Directors
, Muntons
(4.8%)
4.8% A rich, chestnut hued, full-bodied brew boasting a clean, bitter taste balanced with burnt, orange peel notes and a dry-hop aroma and flavour
Beer
Exmoor Ale
, Exmoor Ales Ltd
(3.8%)
Beer drinkers constantly judge Ale to be their favourite tipple, making it the brewery's bestseller.
Beer
Fosters
, Heineken
(4.0%)
A pleasant, fruity, lighter-styled quaffing lager
Beer
Guinness Draught
, Guinness
(4.1%)
Guinness is an Irish dry stout that originated in the brewery of Arthur Guinness at St. James's Gate, Dublin. Guinness is one of the most successful beer brands worldwide.
Beer
Landlord
, Timothy Taylor & Co. Ltd
(4.3%)
The drinkers' favourite, a 4.3% classic pale ale with a complex citrus and hoppy aroma
Beer
London Pride
, Fullers
(4.1%)
In recent years its popularity has grown to the extent that it is now Britain's leading premium ale: a welcome fixture in many pubs and off licences around the country, and now winning new friends abroad.
Beer
Spitfire Lager
, Shepherd Neame
(4.0%)
Brewed with brown and lager malts, Spitfire Lager is a cool, refreshing, thirst-quenching British lager, crafted by Britain's oldest brewer.
Beer
The Rev James Original
, S.A Brain & Co Ltd
(4.5%)
Fine Ale Revelation
Cider
Reveller
, Orchard Pig Brewery
(4.5%)
The generous apple aroma draws you into a crisp, refreshing cider with a tangy note of freshly squeezed lime in the finish.
Cider
Strongbow Cloudy Apple
, Heineken
(4.5%)
Crafted in Herefordshire with a unique blend of British bittersweet apples, Strongbow Cloudy Apple is a fresh new take on traditional cloudy cider
Cider
Thatchers Haze
, Thatchers Cider
(4.5%)
Thatchers Haze is a cloudy premium cider bursting with apple flavour.